This page explains in detail the interactions between the Mario series and the Nester series.
Howard & Nester episode 2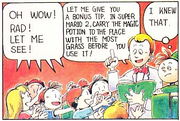 September/October 1988

In the second episode of Howard and Nester, Howard reads a tip about Super Mario Bros. 2.
Howard & Nester episode 12
May/June 1990


In this episode, Howard and Nester literally enter Super Mario Bros. 3 to search for programming bugs. They're seen exploring the fortress of Wolrd 1.
Even if they phisically interact with the Mario world, this is stated in the comic to be just a debugging device, so Mario is still fictional within Nester's universe, and this counts as a type 2 link, and not as type 1.
Nintendo Power 20th Anniversary Comic
August 2008

In this special episode, adult Nester and his son play Mario Kart Wii. In a scene Nester also talks about the Super Mario Bros. movie.
He cites Super Mario Bros. 3 too, but he's talking about a scene within the movie The Wizard, so it's technically an undirect reference.
License
Copyrights for both series are held by Nintendo.