This page explains in detail the interactions between the Mario series and the Monster Hunter series.
Monster Hunter 4
2013914 September 14, 2013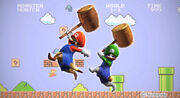 In the Nintendo 3DS-exclusive game Monster Hunter 4 there are costumes for the characters based on Mario and Luigi from the Mario series and on Link from the Zelda series (see Monster Hunter X Zelda).
The Mario and Luigi costumes can be worn by Lynian characters and consist in the brother's shirt, overalls, gloves, cap nose with moustache and even sideburns. The overalls are adapted for the cat-like characters, featuring short pants and a hole for the tail. The costume also comes with a big hammer, based on Mario's weapon from Donkey Kong or the Mario & Luigi series.
License
Nintendo authorized Capcom to include Mario and Zelda costumes in Monster Hunter 4 to create a double way marketing, with the game promoting the console and vice versa.