This page explains in detail the interactions between the Mario series and the Mega Jump series.
Mega Jump's Movember promotion
20111111 November 11, 2011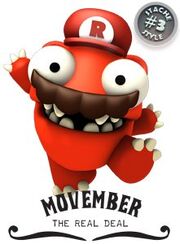 During the month of November, to promote Movember, a special moustached version of Redford was made available for download, called "Movember Redford". After downloading it, his look would change every few days, sporting different moustaches. One of these looks, available from November 11th to 16th, called "Super Redford", is clearly based on Mario, and the "Super" in his name comes from "Super Mario".
At the end of the month, GetSet Games put up a poll in their Facebook page to vote for the best Movember Redford and make it into the final character. Super Redford was the winner.
License
The creators of Mega Jump held no right over Nintendo's Mario, but they only included a minor reference to the character.