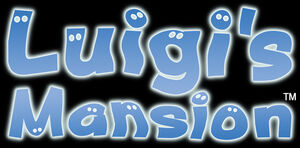 For detailed information about this series, see: Year of Luigi at Super Mario Wiki
Luigi is a series of video games created by Nintendo and starring Luigi, brother of the titular character from the Mario series, making this series a spin-off of it.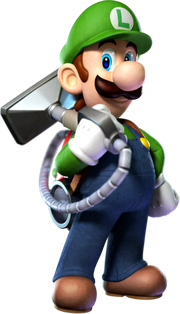 While Luigi is playable in all games in the Mario Bros. sub-series and some other Mario games, the first game to star Luigi in the leading role was the educational game Mario is Missing, but since it's not titled "Luigi" and it still features Mario in a supporting role, it's not considered an actual part of the Luigi series.
The actual games titled after Luigi are:
Luigi's Mansion (September 14, 2001), GameCube. A Nintendo 3DS version was also released on October 12, 2018.
Luigi's Mansion 2 (March 20, 2013), Nintendo 3DS. Known in North America as Luigi's Mansion: Dark Moon.
New Super Luigi U (June 19, 2013), Wii U. Originally released as an expansion pack to New Super Mario Bros. U, it was later released as a stand-alone game.
Dr. Luigi (December 31, 2013), Wii U download.
Luigi's Mansion Arcade (Summer 2015), Arcade.
Luigi's Mansion 3 (2019), Nintendo Switch
The Mario & Luigi sub-series while also titled after Mario, is sometimes considered part of the Luigi series.
Additionally many merchandising items dedicated to Luigi was released throughout 2013 in an event called "The Year of Luigi", commemorating the 30th anniversary of Luigi's debut in Mario Bros., including a Luigi-themed Nintendo 3DS XL and a music CD titled The Year of Luigi Sound Selection including music tracks from Luigi games as well as Luigi themes from Mario games.
Links to other series
Note: only references to Luigi as the hero from his own series are listed here, references to him as a Mario character are listed in the Mario series.
| Direction | Series | Date | Description | Type |
| --- | --- | --- | --- | --- |
| | Mario | | The Luigi series is a spin-off of the Mario series, starring Mario's brother Luigi. | 1 |
| | Star Wars | | Luigi's Mansion features a reference to Return of the Jedi. | 3 |
| | Wario | | The ending of Luigi's Mansion seem to be based on the ending of Wario Land. | 3 |
| | Pikmin | | A promotional video for Pikmin can be found in the Options menu of the US and PAL versions of Luigi's Mansion. | 3 |
| | Super Princess Peach | | King Boo appears as a boss in Super Princess Peach. | 1 |
| | Super Smash Bros. | | Super Smash Bros. Brawl and for Wii U feature a stage based on Luigi's Mansion; the Poltergust 5000 from Luigi's Mansion: Dark Moon also appears in Super Smash Bros. for Nintendo 3DS and for Wii U as Luigi's Final Smash. | 1 |
| | Project Zero | | Luigi's clothes are unlockable in Project Zero 4. | 2 |
| | Animal Crossing | | Animal Crossing: New Leaf features a music track originally from Luigi's Mansion. | 3 |
| | Nintendo Land | | Nintendo Land features a minigame based on Luigi's Mansion. | 2 |
| | Poltergeist | | Luigi's Mansion 2 features a reference to Poltergeist. | 3 |
| | NES Remix | | NES Remix 2 includes a special mode called Super Luigi Bros. | 2 |
| | Donkey Kong | | Mini Mario & Friends: amiibo Challenge features a level based on Luigi's Mansion. | 2 |