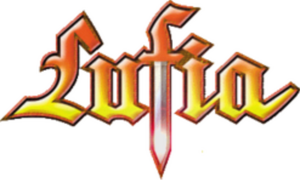 For detailed information about this series, see: Lufia on Wikipedia
Lufia, known as Estpolis Denki (lit. "Biography of Estpolis") in Japanese, is an RPG video game series developed by Neverland and published by Taito and later Square Enix.
Video Games
Lufia & the Fortress of Doom (June 25, 1993). SNES. Later released on mobile phones.
Lufia II: Rise of the Sinistrals (February 24, 1995). SNES.
Lufia: The Legend Returns (September 7, 2001). Game Boy Color. Rereleased in 2015 for the Nintendo 3DS Virtual Console.
Lufia: The Ruins of Lore (March 8, 2002). Game Boy Advance. Rereleased on 2016 for the Wii U Virtual Console.
Estpolis Denki Inishie no Doukutsu (September 1, 2003). A Japan-only title for mobile phones based on the Ancient Cave side-quest from Lufia II (its subtitle is "Ancient Cave" in Japanese).

Estpolis Denki Light (October 15, 2003). A simpler version of the same mobile game.
Estpolis Denki DX Inishie no Doukutsu (July 8, 2004). An updated "deluxe" version of the game.

Lufia: Curse of the Sinistrals (February 25, 2010). Nintendo DS. A remake of Lufia II.
Links to other series
| Direction | Series | Date | Description | Type |
| --- | --- | --- | --- | --- |
| | Kyuukyoku Harikiri Stadium | | One of the players in the "Taito Planets" team from Super Kyuukyoku Harikiri Stadium 2 is named "Estpolis", after the series' Japanese name. | 3 |
| | Energy Breaker | | Lufia and Roman from Lufia & the Fortress of Doom make a cameo appearance in Energy Breaker, there are other references to the Lufia series. | 1 |
| | CIMA | | There are a number of minor references to the Lufia series in CIMA: The Enemy, most notably a town with the same name. | 1 |
| | Rune Factory | | Rune Factory 2 features statues resembling Gades from Lufia, while Lufia: Curse of the Sinistrals has a small nod to Rune Factory. | 3 |
| | Daifugo Party | | Lufia from Lufia & the Fortress of Doom is a playable character in Daifugo Party. | 1 |
| | Groove Coaster | | A remix of the Battle #2 theme from Lufia II: Rise of the Sinistrals is featured in Groove Coaster 3EX and follow-ups. | 3 |
| | Space Invaders | | Lufia from Lufia & the Fortress of Doom appears as one of the characters providing assist attacks in Arkanoid vs. Space Invaders. | 1 |
| | Arkanoid | | Lufia from Lufia & the Fortress of Doom appears as one of the characters providing assist attacks in Arkanoid vs. Space Invaders. | 1 |