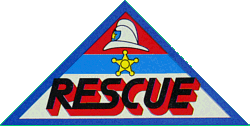 For detailed information about this series, see: Lego RSQ911 and Lego Rescue at Brickipedia
Lego Rescue, originally known as Lego RSQ911 or simply RSQ911, is a series of construction toys by Lego focused on rescue missions, and it's a sub-series of the Lego Town series. Some consider the two names as separate series, but since they feature the same theme and their logo is basically the same, it's safe to consider them the same series, only renamed.
The released sets are, by year:
RSQ911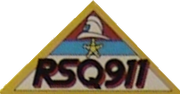 1991:
1896 Trauma Team
6389 Fire Control Center
6531 Flame Chaser
6593 Blaze Battler
1992:
Rescue
1993:
6344 Jet Speed Justice
6398 Central Precinct HQ
6664 Chopper Cops
1994:
1710 Snow Scooter, later re-released as 1730 Snow Scooter.
6340 Hook & Ladder
6348 Surveillance Squad
6483 Coastal Patrol
6571 Flame Fighters
1995:
1996:
6545 Search N' Rescue
6598 Metro PD Station
6625 Speed Trackers
Links to other series
This series doesn't feature any reference to other series and is not referenced by any other series.