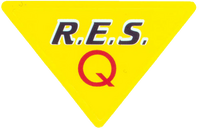 For detailed information about this series, see: Lego Res-Q at Brickipedia
Lego Res-Q, or simply Res-Q is a series of construction toys by Lego focused on rescue missions, featuring the titular fictional company, and it's a sub-series of the Lego Town series.
The first set that is considered by some part of the series is 2882 Speedboat, released in 1997, that features a lifeguard minifigure similar to some from actual Res-Q sets, however it doesn't feature the Res-Q logo, so it's at most a prototype.
The actual Res-Q sets were released in 1998, and are:
2962 Res-Q Lifeguard
6415 Res-Q Jet-Ski, later re-released as 6428 Wave Saver and as 1097 RES-Q Runner.
6431 Road Rescue
6445 Emergency Evac
6451 River Response
6462 Aerial Recovery
6473 Res-Q Cruiser
6479 Emergency Response Center
Additionally, the Jack Stone sets 4603 Res-Q Wrecker, 4606 Aqua Res-Q Transport and 4622 ResQ Digger, released between 2001 and 2002, feature "Res-Q" in their title, but they are not an actual part of the series.
Links to other series
| Direction | Series | Date | Description | Type |
| --- | --- | --- | --- | --- |
| | Lego Extreme Team | | The Lego Res-Q set 6462 Aerial Recovery features a diver from the Extreme Team series. | 1 |
| | Lego Studios | | The Lego Studios set LEGO & Steven Spielberg MovieMaker Set includes a Res-Q fireman minifigure. | 1 |
| | Lego Sports | | The Lego Sports set 3408 Super Sports Coverage includes a Res-Q minifigure. | 1 |
| | Lego Jack Stone | | The Lego Jack Stone sets 4603 Res-Q Wrecker, 4606 Aqua Res-Q Transport and 4622 ResQ Digger feature the Res-Q organization. | 1 |