This page explains in detail the interactions between the Lego City series and the Zelda series.
Lego City Undercover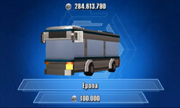 20130318 March 18, 2013

The buses in the game, that can be stolen and driven by the player, are called "Epona", being named after Link's horse from the Zelda series.
Epona buses also return in Lego City Undercover: The Chase Begins.
License
Lego City Undercover was published by Nintendo, so they could freely include references to Zelda.