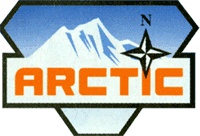 For detailed information about this series, see: Lego Arctic at Brickipedia
Lego Arctic is a series of construction toys by Lego featuring sets centered around arctic exploration, and it's a sub-series of the Lego Town series. It was first announced in 1998, but its sets were released in 2000; a new series was released in 2014.
Sets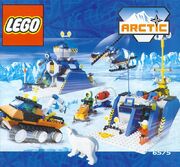 Sets released in 2000 are:
6520 Mobile Outpost
6569 Polar Explorer, a boundle of two sets: 6578 Polar Explorer and 6586 Polar Scout.
6573 Arctic Expedition
6575 Polar Base
6577 Snow Scooter
6578 Polar Explorer
6579 Ice Surfer
6586 Polar Scout
6626 Snowmobile, a re-release of 6577 Snow Scooter, without a front decal.
Sets released in 2014 are:
30310 Arctic Scout
60032 Arctic Snowmobile
60033 Arctic Ice Crawler
60034 Arctic Helicrane
60035 Arctic Outpost
60036 Arctic Base Camp
60062 Arctic Icebreaker
60064 Arctic Supply Plane
Additionally, the sets 6570 Snowmobile and 6576 Sledge were created but never released.
Promotional items
A book was published in 2000 titled Mission to the Arctic.
A t-shirt featuring a promotional image of the series was also released in 2000.
An Arctic-themed food placemat was released in 2004, called 4271453 Arctic Food Placemat - Blue.
Links to other series
| Direction | Series | Date | Description | Type |
| --- | --- | --- | --- | --- |
| | Lego Racers | | Lego Racers 2 features vehicles and other elements from Lego Arctic. | 1 |
| | Lego Sports | | The videogame Lego Soccer Mania features characters from the Arctic series. | 1 |