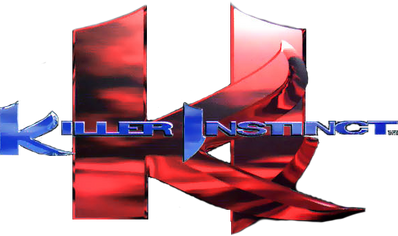 For detailed information about this series, see: Killer Instinct Wiki
Killer Instinct is a series of fighting video games by Microsoft. Originally created by Rare, it was later developed by Double Helix Games and Iron Galaxy Studios.
Video Games
Killer Instinct (November 28, 1994). Arcade. Later released on SNES, Game Boy, and Xbox One.
Killer Instinct 2 (1996). Arcade. Later released on Xbox One.

Killer Instinct Gold (November 22, 1996). An updated release for Nintendo 64.

Killer Instinct (November 22, 2013). Xbox One and PC. It consisted of 3 seasons:

Killer Instinct Season 1 (November 22, 2013)
Killer Instinct Season 2 (September 23, 2014)
Killer Instinct Season 3 (March 29, 2016)

Killer Instinct Definitive Edition (September 20, 2016). A physical and digital release including all DLC content.
Comics

Killer Instinct (January 1, 1996). A comic book series consisting of 7 issues by Armada. The first issue was released as a "Nintendo Power Exclusive Edition", bundled with the magazine; while the rest came out in two 3-part series:

Killer Instinct (June - August 1996). An adaptation of the first game's plot.
Killer Instinct Special (September - November 1996). While a direct continuation from the previous series, these issues are mostly self-contained stories.

Killer Instinct (September 13, 2017). An ongoing comic book series by Dynamite, following after the events of the 2013 game.
Other
Killer Instinct Novella (May 6, 2016). A six-chapter web novel published in the official 2013 Killer Instinct site, to serve as backstory leading up to Season 3.
Links to other series
| Direction | Series | Date | Description | Type |
| --- | --- | --- | --- | --- |
| | Sabreman | | The character Sabrewulf from the Killer Instinct series is based on the Wulf from the Sabreman series. | 3 |
| | Street Fighter | | Eyedol's ending in the first Killer Instinct is a parody of Blanka's ending from Street Fighter II. | 3 |
| | Donkey Kong | | Arcade cabinets and a poster for Killer Instinct can be seen in Donkey Kong Country 2. | 2 |
| | Conker | | Conker's Bad Fur Day and Conker: Live & Reloaded feature idle animations where Conker plays a handheld console emitting 8-bit renditions of themes from Killer Instinct, while Rash's "Rarewear" accessories in the 2013 Killer Instinct game include a Conker hood. | 2 |
| | Viva Piñata | | A set of six Killer Instinct characters were made into Piñata Vision cards and respective piñatas in Viva Piñata: Trouble in Paradise. | 2 |
| | Banjo-Kazooie | | Banjo-Kazooie: Nuts & Bolts features a reference to the Killer Instinct series, while Rash's "Rarewear" accessories in the 2013 Killer Instinct game include Banjo's shorts, a Jiggy tattoo, and a backpack based on the Lord of Games' face. | 2 |
| | Gray's Anatomy | | The 10th season episode "Two Against One" of Gray's Anatomy has the 2013 Killer Instinct game being played. | 2 |
| | The Fosters | | The 2nd season episode "Truth Be Told" from The Fosters has the characters playing the 2013 Killer Instinct. | 2 |
| | Divekick | | TJ Combo's "Kick Boxing" accessories in the 2013 Killer Instinct game are based on Kick's costume from Divekick. | 2 |
| | Blade | | TJ Combo's "Hunter" accessories in the 2013 Killer Instinct game are based on Marvel's Blade. | 2 |
| | Big Trouble in Little China | | Kan-ra's "Sorcerer" accessories in the 2013 Killer Instinct game are based on Lo Pan from Big Trouble in Little China. | 2 |
| | Phantom Dust | | Maya's "Modern" accessories in the 2013 Killer Instinct game are based on Freya from Phantom Dust. | 2 |
| | Silicon Valley | | The 2nd season episode "Sand Hill Shuffle" from Silicon Valley features the 2013 Killer Instinct game being played. | 2 |
| | Metropolis | | Aria's retro costume from the 2013 Killer Instinct is loosely inspired in Maria from Metropolis. | 3 |
| | Rare Replay | | Rare Replay includes Killer Instinct Gold as a playable game. | 2 |
| | Battletoads | | Rash from Battletoads is a DLC character in Season 3 of Killer Instinct. | 1 |
| | Halo | | The Arbiter from Halo is a DLC character in Season 3 of Killer Instinct. | 1 |
| | Fable | | Mira's "Phantom" accessories in the 2013 Killer Instinct game are based on the Jack of Blades from Fable. | 2 |
| | Gears of War | | General RAAM from Gears of War is a DLC character in Season 3 of Killer Instinct on Xbox One. | 1 |
| | Worms | | The pre-order "All-Stars" pack for Worms W.M.D. includes a mask of Fulgore from Killer Instinct. | 2 |