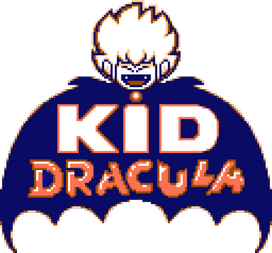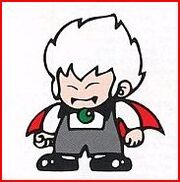 'Kid Dracula, known as Akumajō Special (Demon Castle Special) in Japan, is a comedy-horror platform series by Konami.
Video Games
Akumajō Special: Boku Dracula-kun (October 19, 1990); NES. Later released on mobile phones.
Kid Dracula (January 3rd, 1993); Game Boy. A rearrangement of the original game with a brand new plot.
Links to other series
| Direction | Series | Date | Description | Type |
| --- | --- | --- | --- | --- |
| | Castlevania | | Kid Dracula is a spinoff of Castlevania. | 1 |
| | Ganbare Goemon | | There's a hidden item shaped like Kid Dracula's head in Legend of the Mystical Ninja. | 3 |
| | Konami Wai Wai World | | Kid Dracula appears in Wai Wai Poker, Wai Wai Bingo and Wai Wai Jockey. | 1 |
| | Parodius | | Kid Dracula is a playable character in the SNES port of Gokujou Parodious and the PlayStation/Saturn port of Jikkyou Oshaberi Parodius. | 1 |
| | GameCenter CX | | Arino plays Akumajō Special: Boku Dracula-kun in Episode 62 of GameCenter CX. | 2 |
| | Monster Retsuden Oreca Battle | | The monster "Aluca" from Monster Retsuden Oreca Battle has a similar appearance to Kid Dracula. | 3 |
| | Super Smash Bros. | | Kid Dracula appears as a spirit in Super Smash Bros. Ultimate. | 2 |