For detailed information about this series, see: Kangaroo at Wikipedia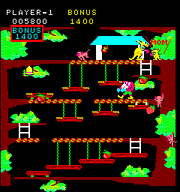 Kangaroo is a platform arcade game developed by Sun Electronics and published by Atari in 1982. The game is about a mother Kangaroo that has to fight monkeys to rescue her son. It was later ported to Atari 8-bit, Atari 2600, and Atari 5200 home consoles.
An animated TV series based on the game was was featured in the Saturday Supercade cartoon lineup of Season 2. It aired for 13 episodes from September 8, 1984 to December 1, 1984. In the cartoon the mother and son kangaroos were named respectively Katey and Joey.
Links to other series
| Direction | Series | Date | Description | Type |
| --- | --- | --- | --- | --- |
| | Donkey Kong | | Kangaroos Joey and Katy meet Donkey Kong between the episodes of their shows in the Saturday Supercade. | 1 |
| | Q*bert | | The Kangaroo TV show was aired with the Q*bert TV show in the Saturday Supercade. | 3 |
| | Space Ace | | The Kangaroo TV show was aired with the Space Ace TV show in the Saturday Supercade. | 3 |