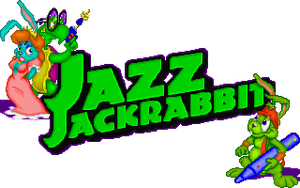 For detailed information about this series, see: Jazz Jackrabbit Wiki
Jazz Jackrabbit is a series of platforming/shoot 'em up video games created by Epic Games starring the titular character.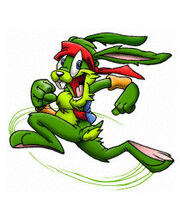 Released games are:
Jazz Jackrabbit (July 30, 1994), MS-DOS. The first episode was released as shareware, while the full version includes six episodes. Re-released for Windows in 1995, including three new episodes and the originally independent Holiday Hare 1994. A version titled Jazz Jackrabbit Trilogy was also released, only including the first three episodes. Two extra shareware episodes were released for the MS-DOS version:

Jazz Jackrabbit: Holiday Hare 1994 (1994)
Jazz Jackrabbit: Holiday Hare 1995 (1995)

Jazz Jackrabbit 2 (April 13, 1998), PC. A shareware demo was released, which is also included in the full version along with four actual episodes and a level editor called Jazz Creation Station. Additional episodes:

Jazz Jackrabbit 2: Holiday Hare '98 (1998)
Jazz Jackrabbit 2: The Secret Files (1999), an expansion pack including a new playable character and a new episode.
Jazz Jackrabbit 2: The Christmas Chronicles (2001), basically the European version of Holiday Hare '98, it also includes elements from The Secret Files and some bonus content.

Jazz Jackrabbit (December 22, 2002), Game Boy Advance. An attempted reboot of the series, Jazz is heavily redesigned.
Additionally, a 3D platformer titled Jazz Jackrabbit 3, or Jazz Jackrabbit 3D, was developed in 2000 for PC, but was never released, and only an alpha version exists.
In December 2010, Epic Games released a development kit for the Unreal Engine for iOS, including as a demo an untitled Jazz Jackrabbit game as a top down twin-stick shooter game.
Links to other series
| Direction | Series | Date | Description | Type |
| --- | --- | --- | --- | --- |
| | Jill of the Jungle | | Jill of the Jungle makes a cameo in Jazz Jackrabbit. | 1 |
| | Sonic | | Jazz Jackrabbit's instruction manual features the appearance of a character based on Sonic; also the boss Zoonik is partially based on Sonic. | 3 |
| | Zool | | The boss Zoonik in Jazz Jackrabbit is partially based on Zool. | 3 |
| | Doom | | Jazz Jackrabbit and Jazz Jackrabbit 2 feature references to Doom. | 3 |
| | One Must Fall | | Jazz Jackrabbit makes an appearance in One Must Fall: 2097; additionally Jazz Jackrabbit features a statue of the Katana robot from One Must Fall: 2097. | 1 |
| | Back to the Future | | Jazz Jackrabbit 2 features a reference to Back to the Future. | 3 |
| | Donkey Kong | | Jazz Jackrabbit 2 features a reference to Donkey Kong. | 2 |
| | Commander Keen | | Jazz Jackrabbit 2 features a reference to the Dopefish. | 2 |