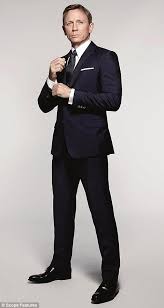 James Bond is a series by EON Production.
For more information see:James Bond wiki.
Movies
Dr.No(1962).
From Russia with Love(1963).
Goldfinger(1964).
Thunderball(1965).
You only live twice(1967).
On Her Majesty's Secret Service (1969).
Daimond are forever(1971).
Live and let die(1973).
The man with the golden gun(1974).
The Spy Who Loved Me (1977)
Moonaker(1979).
For Your Eyes Only (1981).
Octopussy(1983).
A View to a Kill (1985).
The Living Daylights (1987)
Licence to kill(1989).
GoldenEye(1995).
Tomorrow Never Dies (1997).
The World Is Not Enough (1999).
Die Another Day (2002).
Casino Royale(2006).
Quantum of Solace (2008).
Skyfall (2012).
Spectre (2015).
Casino Royale(1967).
Never Say Never Again (1983).
Novels
Casino Royale(1953).
Live and Let die(1954).
Moonraker(1955).
Daimonds are forever(1956).
Video Games
007 Golden Eye(1995)for Nintendo 64.
James Bond 007 (1983).
A View to a Kill(1985)for Amstrad,CPC,Apple II,Commodore 64,DOS,Macintosh,MSX,Oric,1Oric,Atmos,ZX Spectrum.
Mindscape
Goldfinger(1986).
The Living Daylights(1987).
TV series
James Bond Junior(30 Sectember 1990-2 March 1992).
Link to other series
| Direction | Series | Date | Description | Type |
| --- | --- | --- | --- | --- |
| | Matt Helm | | The Matt Helm series is a parodies of James Bond. | 3 |
| | Anacleto, agente secreto | | Anacleto, agente secreto is a parody of James Bond. | 3 |
| | Hot Enough for June | | Hot Enough for June is a parody of James Bond. | 3 |
| | Bond Strikes Camp | | Bond Strikes Camp is a parody of James Bond. | 3 |
| | The Book of Bond | | The Book of Bond is a parody of James Bond. | 3 |
| | Our Man From SADISTO | | Our Man From SADISTO is a parody of James Bond. | 3 |
| | The Executioner | | The Executioner is a parody of James Bond. | 3 |
| | The Baroness | | The Baroness is a parody of James Bond. | 3 |
| | The Illuminatus! Trilogy | | The Illuminatus! Trilogy has references to James Bond. | 3 |
| | Gadget | | Dr. Claw from the Inspector Gadget series is based on Blofeld from the James Bond series. | 3 |
| | Mario | | The Super Mario Bros. Super Show! episode "On Her Majesty's Sewer Service" is a parody of the James Bond series. | 3 |
| | Night Probe! | | Night Probe! has references to James Bond. | 3 |
| | James Pond | | James Pond series is a parody of James Bond. | 3 |
| | Captain America | | James Bond makes an appearance in Captain America #401. | 1 |
| | Twisted Metal | | Agent Stone (Crimson Fury's driver) from Twisted Metal is based on James Bond. | 3 |
| | The Simpsons | | The episode "You Only Move Twice" contained parodies of events and characters from the James Bond film, "You Only Live Twice." The character in the episode, James Bont, parodies the James Bond movie character. James Bont also appears in some of the Simpsons comics. | 3 |
| | Donkey Kong | | GoldenEye 007 features a cheat mode called "DK mode" as a reference to Donkey Kong. | 3 |
| | Austin Powers | | Austin Powers series is a parody of James Bond series. | 3 |
| | Dracula Cha Cha Cha | | Dracula Cha Cha Cha has references to James Bond. | 3 |
| | Planetary (DC Comics) | | Planetary has references to James Bond. | 3 |
| | Super Smash Bros. | | The Motion Sensor Bomb from Super Smash Bros. and Melee is based on the mine from GoldenEye 007; at one point James bond was also considered for Super Smash Bros Melee. | 3 |
| | Perfect Dark | | Perfect Dark is the spiritual successor of 007 GoldenEye. The multiplayer maps Temple and Complex appear in both games. | 1 |
| | Banjo-Kazooie | | Banjo-Tooie features two first person zones based on maps from the multiplayer mode of GoldenEye 007. | 3 |
| | You Only Live Until You Die | | You Only Live Until You Die is parody of James Bond. | 3 |
| | Kiss the Girls and Make Them Spy | | Kiss the Girls and Make Them Spy is a parody of James Bond. | 3 |
| | The Girl with the Golden Bouffant | | The Girl with the Golden Bouffant is a parody of James Bond. | 3 |
| | Your Deal, Mr. Bond | | Your Deal, Mr. Bond is a parody of James Bond. | 3 |
| | The League of Extraordinary Gentlemen: The Black Dossier | | The League of Extraordinary Gentlemen: The Black Dossier has references to James Bond. | 3 |
| | Secret History (Alfred A. Knopf) | | Secret History has references to James Bond. | 3 |
| | Atop the 4th Wall | | Linkara reviews James Bond Jr. #3. | 2 |
| | Loxfinger | | Loxfinger is a parody of James Bond. | 3 |
| | In the Secret Service of His Majesty – the Queen | | In the Secret Service of His Majesty – the Queen is a parody of James Bond. | 3 |
| | Sesame Street | | Cookie's Crumby Pictures features a parody to James Bond. | 3 |
| | South Park | | James Bond was mentioned in the episode "Oh Jeez!". | 2 |
| | Bojack Horseman | | James Bond was mentioned in the Bojack Horseman episode "Commence Fracking" | 2 |