This page explains in detail the interactions between the Indie Pogo series and the Pizza Vs. Skeletons series.
Indie Pogo
July 10, 2018

Indie Pogo4

Pizza Vs. Skeletons
Indie Pogo features a trophy of Pizza. It can be unlocked from the Gachapon. Unlocking this trophy causes Pizza to appear in the background crowd of the character select screen, and possibly appear during a pogo combo during battle.
Trophy description: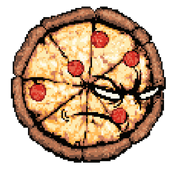 On a moonlit night, every 1000 days, the restless dead rise up to play. They did not expect, on this night though, a fierce opponent of sauce, cheese, & dough. And when our hero's quest is complete, will prove pizza more than something good to eat.
License
Riverman Media gave permission to Lowe Bros. Studios to use Pizza in Indie Pogo.