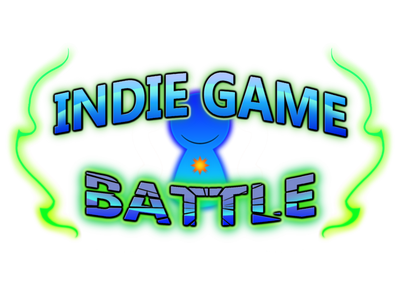 For detailed information about this series, see: Indie Game Battle Wiki
Indie Game Battle is a multiplayer fighting game by Blob Games Studio.
Indie Game Battle (October 29, 2015), PC.
Links to other series
Note: characters, places, and items appearing in the series create an in-universe link because they directly interact with the games' universe; music tracks create an out-universe link, because the game's music is supposed to only be heard by the player and doesn't actually appear in the games' universe.
First Party Games
| Direction | Series | Date | Description | Type |
| --- | --- | --- | --- | --- |
| | Super Smash Bros. | | Indie Game Battle is a clone of Super Smash Bros. | 1 |
| | The Legend of The Artifact | | Characters, places and items from The Legend of The Artifact series are featured. | 1 |
| | Emblem | | Characters, places and items from Emblem are featured. | 1 |
| | Solarblade | | Characters, places and items from Solarblade are featured. | 1 |
| | Galactic Rangers | | Characters, places and items from Galactic Rangers are featured. | 1 |
| | Purple Pirate Penguin | | Percyl from Purple Pirate Penguin is featured as a playable character. | 1 |
| | Dreamcatcher | | Liz from Dreamcatcher is featured as a playable character. | 1 |
| | Escape | | Nicholas from Escape is featured as a playable character. | 1 |
| | Cal's Quest | | Characters, places and items from Cal's Quest are featured. | 1 |
Third Party Games
| Direction | Series | Date | Description | Type |
| --- | --- | --- | --- | --- |
| | Fantidote | | Artist from Fantidote is featured as a playable character. | 1 |
| | Jarvis | | Jarvis from Jarvis is featured as a playable character. | 1 |
| | Boss 101 | | Max & STEVE from Boss 101 is featured as a playable character. | 1 |
| | Bingo the Multiva | | Bingo from Bingo the Multiva is featured as a playable character. | 1 |
| | Stone Smash | | Shady from Stone Smash is featured as a playable character. | 1 |
| | Sentry Knight | | Sentry Knight from Sentry Knight is featured as a playable character. | 1 |
| | Salad Fingers | | Salad Fingers from Salad Fingers is featured as a playable character. | 1 |
| | I Wanna Be the Guy | | The Kid from I Wanna Be the guy is featured as a playable character. | 1 |
| | Nefarious | | Crow from Nefarious is featured as a playable character. | 1 |
| | Eversion | | Zee Tee from Eversion is featured as a playable character. | 1 |
| | VVVVVV | | Captain Viridian from VVVVVV is featured as a playable character. | 1 |
| | Kill the Pumber | | King Bowler from Kill the Plumber is featured as a playable character. | 1 |
| | Chibi Knight | | Chibi Knight from Chibi Knight is featured as a playable character. | 1 |
| | Clive 'N' Wrench | | Clive & Wrench from Clive 'N' Wrench are featured as a playable character. | 1 |
| | Goat Simulator | | Goat from Goat Simulator is featured as a playable character. | 1 |
| | Crowns | | Pursuit from Crowns is featured as a playable character. | 1 |
| | Teslagrad | | Teslakid from Teslagrad is featured as a playable character. | 1 |
| | Pico's School | | Pico from Pico's School is featured as a playable character. | 1 |
| | Madness | | Hank from Madness is featured as a playable character. | 1 |
| | Fist of Awesome | | Tim Burr from Fist of Awesome is featured as a playable character. | 1 |
| | theMeatly | | theMeatly from theMeatly comics is featured as a playable character. | 1 |
| | McPixel | | McPixel from McPixel is featured as a playable character. | 1 |
| | Rollergirls from Beyond | | Ginger from Rollergirls from Beyond is featured as a playable character. | 1 |
| | Wick | | Lillian from Wick is featured as a playable character. | 1 |
| | Dust: An Elysian Tail | | Dust from Dust: An Elysian Tail is featured as a playable character. | 1 |
| | Frost Bite | | Climber from Frost Bite is featured as a playable character. | 1 |
| | Super Dangerous Dungeons | | Timmy from Super Dangerous Dungeons is featured as a playable character. | 1 |
| | Toribash | | Toribash from Toribash is featured as a playable character. | 1 |
| | LISA | | Brad from LISA is featured as a playable character. | 1 |
| | OFF | | The Batter from OFF is featured as a playable character. | 1 |
| | You Have 10 Seconds | | Ecks from You Have 10 Seconds is featured as a playable character. | 1 |
| | Stories: The Path of Destinies | | Reynardo from Stories: The Path of Destinies is featured as a playable character. | 1 |
| | OneShot | | Niko from OneShot is featured as a playable character. | 1 |
| | Riddle School | | Phil from Riddle School is featured as a playable character. | 1 |
| | SCP Foundation | | SCP-049 from SCP Foundation is featured as a playable character. | 1 |
| | Fancy Pants | | Fancy Pants from Fancy Pants is featured as a playable character. | 1 |
| | Duck Game | | Duck from Duck Game is featured as a playable character. | 1 |
| | Plasma Puncher | | Blanche from Plasma Puncheris featured as a playable character. | 1 |
| | Spark the Electric Jester | | Spark from Spark the Electric Jester is featured as a playable character. | 1 |
| | Enter the Gungeon | | Bullet Kin from Enter the Gungeon is featured as a playable character. | 1 |