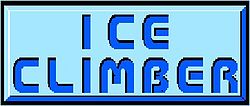 For detailed information about this series, see: Ice Climber on Wikipedia
Ice Climber is a platfrom video game created by Nintendo and released for Famicom/NES on January 30, 1985.
Player 1 takes control of the boy Popo and Player 2 takes control of his sister Nana, and the objective is to reach the top of an icy mountain by breaking through the ice, while collecting vegetables and avoiding enemies including Topi (a seal in the Japanese version, and a yeti-like creature in western versions), the Polar Bear, and the Condor.
An Arcade version titled Vs. Ice Climber and featuring some differences was released in 1985, and then rereleased for Famicom Disk System on November 18, 1988 simply titled Ice Climber
The original NES game received various re-releases:
In October 1985 for NEC PC-8801
In November 1985 for Sharp X1
On November 12, 2002 for the Game Boy Advance e-Reader, titled Ice Climber-e.
On June 2, 2004 for Game Boy Advance in the Classic NES Series.
On January 16, 2007 for Wii Virtual Console.
On July 4, 2012 for 3DS Virtual Console.
On April 27, 2013 for Wii U Virtual Console.
On November 10, 2016 enclosed in the NES Classic Edition.
On September 19, 2018 for Nintendo Switch Online.
Links to other series
| Direction | Series | Date | Description | Type |
| --- | --- | --- | --- | --- |
| | Super Smash Bros. | | The Ice Climbers are selectable in Super Smash Bros. Melee and its sequels, alongside stages from Ice Climber. | 1 |
| | Animal Crossing | | Ice Climber is featured in Dobutsu no Mori+ through special means and in Animal Crossing by scanning the respective e-reader card. | 2 |
| | Wario | | Microgame versions of Ice Climber are featured in the WarioWare series. | 2 |
| | Daigasso! Band Brothers | | Music from the Ice Climber series are featured in Daigasso! Band Brothers. | 2 |
| | Donkey Kong | | A song from Ice Climber is featured in Donkey Konga 3. | 2 |
| | Tetris | | One of the themes in Standard Mode of Tetris DS is based on Ice Climber. | 2 |
| | Picross | | Picross DS includes an image from Ice Climber. | 2 |
| | Pushmo | | Pushmo includes a level based on a Popo sprite from Ice Climber. | 2 |
| | NES Remix | | NES Remix includes challenges based on Ice Climber. | 2 |
| | Mario | | Super Mario Maker features a costume based on Popo & Nana from Ice Climber. | 2 |