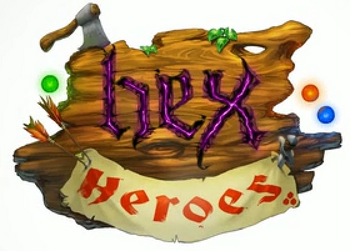 For detailed information about this series, see: Hex Heroes on Wikipedia
Hex Heroes is a party / real-time strategy video game that started being developed by Prismatic Games for PC, Mac, Linus and Wii U in 2014 as a Kickstarter project.
An incomplete version of the game was only shown at GX3 in December 2015, and at GDC Play in March 2016.
Development gradually slowed down with the last update being in January 2018, and it's currently unknown if the game will ever be released.
Links to other series
| Direction | Series | Date | Description | Type |
| --- | --- | --- | --- | --- |
| | Shovel Knight | | Shovel Knight was going to be a selectable character in Hex Heroes. | 1 |
| | Mutant Mudds | | Max from Mutant Mudds was going to be a selectable character in Hex Heroes. | 1 |
| | Trine | | Zoya from Trine was going to be a selectable character in Hex Heroes. | 1 |
| | Guacamelee! | | Juan from Guacamelee! was going to be a selectable character in Hex Heroes. | 1 |
| | Hyper Light Drifter | | The Drifter was going to be a selectable character in Hex Heroes. | 1 |
| | SteamWorld | | Rusty from SteamWorld Dig was going to be a selectable character in Hex Heroes. | 1 |
| | Rogue Legacy | | Lady Faye IV from Rogue Legacy was going to be a selectable character in Hex Heroes. | 1 |
| | Heart Forth, Alicia | | Alicia was going to be a selectable character in Hex Heroes. | 1 |
| | Paradise Lost: First Contact | | Subject W from Paradise Lost: First Contact was going to be a selectable character in Hex Heroes. | 1 |
| | Wizorb | | Cyrus from Wizorb was going to be a selectable character in Hex Heroes. | 1 |