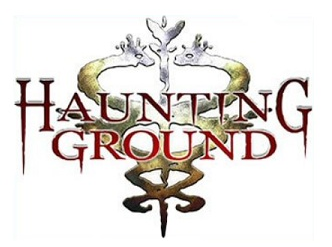 For detailed information about this series, see: Haunting Ground on Clock Tower Wiki
Haunting Ground, known as Demento in Japan, is a survival horror series by Capcom.
The series consists of a single entry, Haunting Ground, released on April 21, 2005 for the PlayStation 2. It was rereleased on 2015 for the PlayStation Store in Japan only.
Links to other series
| Direction | Series | Date | Description | Type |
| --- | --- | --- | --- | --- |
| | Resident Evil | | A dog greatly resembling Hewie from Haunting Ground appears in Resident Evil 4. | 3 |
| | Clock Tower | | Haunting Ground is a spin-off of the Clock Tower series. | 1 |
| | SNK vs. Capcom | | Fiona Belli from Haunting Ground is featured in SNK vs. Capcom: Card Fighters DS. | 2 |
| | Tatsunoko vs. Capcom | | Characters from Haunting Ground make cameo appearances in Tatsunoko vs. Capcom: Ultimate All-Stars. | 1 |
| | Street Fighter | | Cammy receives a costume of Fiona Belli from Haunting Ground in Street Fighter V: Arcade Edition. | 2 |