Hai no Majutsushi (lit. Magician of Tiles) is a mahjong video game developed by Konami and released in 1989 for the MSX2.
The game itself has no plot to speak off and is simply a mahjong game where the player can face off against several characters from other Konami video games. Each character is represented by a portrait on the challenger selection and during a mahjong game and shout their hands during gameplay. The player selects three opponents to face at the beginning, and can also adjust several different statistics for each opponent.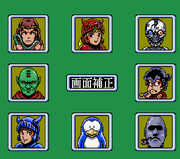 The cast of characters (from top to bottom clock-wise) includes:
Simon Belmont, the main protagonist of the Castlevania series.
Aphrodite, the female heroine from the Knightmare series.
A Snatcher, antagonist robot from the game of the same name.
Goemon, the ninja protagonist from the Ganbare Goemon series.
A Moai, a recurring enemy and mascot of the Gradius series.
Penguin/Penta, the protagonist of Antarctic Adventure.
Popolon, the protagonist of Knightmare.
Dr. Venom, the main antagonist from Nemesis II and Nemesis 3: The Eve of Destruction, part of the Gradius series.
Links to other series
| Direction | Series | Date | Description | Type |
| --- | --- | --- | --- | --- |
| | Castlevania | | Simon Belmont from Castlevania is one of the opponents in Hai no Majutsushi. | 1 |
| | Knightmare | | Popolon and Aphrodite from Knightmare are opponents in Hai no Majutsushi. | 1 |
| | Snatcher | | A Snatcher is one of the opponents in Hai no Majutsushi. | 1 |
| | Ganbare Goemon | | Goemon is one of the opponents in Hai no Majutsushi. | 1 |
| | Gradius | | A Moai and Dr. Venom from Gradius are opponents in Hai no Majutsushi. | 1 |
| | Antarctic Adventure | | Penta from Antarctic Adventure is one of the opponents in Hai no Majutsushi. | 1 |