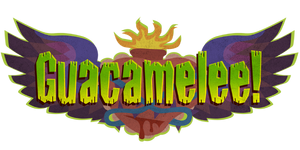 For detailed information about this series, see: Guacamelee! Wiki
Guacamelee! is a platformer beat 'em up indie game by DrinkBox Studios.
Video Games
Guacamelee! (April 9, 2013) for PC, PS3, PlayStation Vita, Mac, Linux, Xbox 360, Wii U, PS4, and Xbox One.
Links to other series
Mascot link: Mr. Destructoid makes an appearance in Guacamelee!.
| Direction | Series | Date | Description | Type |
| --- | --- | --- | --- | --- |
| | Fez | | You can find the language from Fez in Guacamelee. | 2 |
| | Journey (game) | | You can find the robed figure from Journey dead in Guacamelee. | 1 |
| | Grim Fandango | | Guacamelee! features a missing poster of Grim Fandago. | 2 |
| | Castle Crashers | | A Wanted Poster of The Castle Crashers appear in Guacamelee. | 3 |
| | Mario | | Guacamelee! features characters based on the Mario brothers. | 3 |
| | Zelda | | A character based on Error from Zelda II: The Adventure of Link appears in Guacamelee. | 3 |
| | Space Invaders | | At one point in Guacamelee! there are bricks forming the shape of the aliens in Space Invaders. | 3 |
| | Paperbound | | Juan is a playable character in Paperbound. | 1 |
| | Runbow | | Juan and Tostada from Guacamelee! are playable characters in Runbow. | 1 |
| | Super Indie Karts | | Juan Aguacate is a playable character in Super Indie Karts. | 1 |
| | GALAK-Z | | Juan from Guacamelee! is a fightable enemy in GALAK-Z. | 1 |
| | Dino Run | | Dino Run DX features hats based on Guacamelee! characters. | 2 |
| | Hex Heroes | | Juan from Guacamelee! was going to be a selectable character in Hex Heroes. | 1 |
| | Brawlout | | Juan from Guacamelee! is a playable character in Brawlout. | 1 |
| | Bounty Battle | | Juan from Guacamelee! is a playable character in Bounty Battle. | 1 |