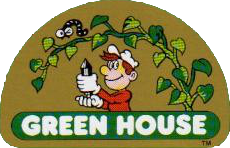 For detailed information about this series, see: Greenhouse at In the Attic
Greenhouse, also known as Green House, is a videogame released by Nintendo in the Game & Watch Multi Screen series on December 6, 1982. The game features a directional pad to move a bug exterminator, and a button to use his spry and kill the insencts. The goal is to keep the bugs away from the flowers.
The game was also included in Game & Watch Gallery 3, released for Game Boy Color on August 4, 1999, featuring a "Classic" version, loyal to the original, and a "Modern" version, with updated gameplay and graphics featuring Mario characters; and in Game & Watch Collection, released for Nintendo DS on July 28, 2006.
Links to other series
| Direction | Series | Date | Description | Type |
| --- | --- | --- | --- | --- |
| | Donkey Kong | | Donkey Kong 3 features many similarities to Greenhouse, and the main character might also be the same. | 3 |
| | Game & Watch Gallery | | Greenhouse is included in Game & Watch Gallery 2 as one of the "Museum" games and in Game & Watch Gallery 3 as a playable game. | 2 |
| | Yoshi | | UNDIRECT: Modern Greenhouse within Game & Watch Gallery 3 features elements from Yoshi's Island. | 1 |
| | Super Smash Bros. | | In one of Mr. Game & Watch's moves he uses the bugspray from Greenhouse. | 1 |
| | Game & Watch Collection | | Greenhouse is included in Game & Watch Collection. | 2 |
| | Wario | | A microgame version of Greenhouse is featured in WarioWare: D.I.Y. | 2 |