This page explains in detail the interactions between the Gravity Falls series and the Mario series.
Gravity Falls episode Fight Fighters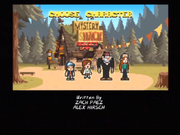 20120914 September 14, 2012

The tenth episode of Gravity Falls features many video game references, and its ending credits specifically spoof the Mario series. It shows Gravity Falls in 8bit style and then a "Character select" screen possibly based on the one from Super Mario USA with Dipper, Mabel, Stan and Wendy as the selectable characters. As the cursor moves, each one of them says a phrase, with Mabel saying "It's-a me, a-Mabel!" referencing Mario's catchphrase first heard in Super Mario 64. Also, Stan says "I'm slower, but I jump higher", which is a common way to distinguish a character from others in videogames, but may specifically be based on Luigi from Super Mario USA and other games, where he jumps higher, but has less traction. He also is slower in some games.
The scene then changes to Soos waking up, saying that it was just a dream, and then returning to sleep. This might be based on the ending of Super Mario USA where its revealed that the game all took place in Mario's dream.
Finally, at the end of the credits a message appears, reading:
HLIIB WRKKVI, YFG BLFI DVMWB RH RM ZMLGSVI XZHGOV
It can be deciphered using the Atbash cipher and it reads:
SORRY DIPPER, BUT YOUR WENDY IS IN ANOTHER CASTLE"
this is a reference to the phrase stated to Mario by the Mushroom Retainers at the end of Worlds 1 through 7 in Super Mario Bros. "Thank you Mario! But our princess is in another castle!"
License
The creators of Gravity Falls held no right over Nintendo's Mario, but they only included minor references to the series.