This page explains in detail the interactions between the Golden Sun series and the Zelda series.
Golden Sun: The Lost Age
(200181 August 1, 2001)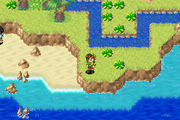 In the code of the game is present a scrapped overworld-NPC that looks like Link, the hero from the Zelda series, looking specifically similar to his appearance in early Zelda games, since he has dark hair. Since it's a sprite sheet complete of all its walking animations, it's likely that it was removed late into development, though it's unknown what his role was meant to be.
It's also possible that he was supposed to only be a character looking Like Link, rather than actually him, but as long as this is unknown, since the game was published by Nintendo, we can consider this an actual incarnation of Link, albeit unreleased.
License
Copyrights for both series are held by Nintendo.