For detailed information about this series, see: Galactic Pinball on Wikipedia
Galactic Pinball is a pinball video game by Nintendo, released for the Virtual Boy on July 21, 1995.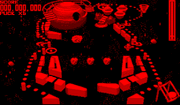 The game features a space setting, taking place in the Milky Way Galaxy in 2100 AD, including four tables, each with its own background:
Cosmic: the player is a pilot of the Space Federation investigating the mysteries of the Milky Way and fighting space pirates.
Colony: representing a space colony adrift in the cosmos, the player must protect it from collision with asteroids.
UFO: the player's ball is "a remote controlled UFO", that must be used to defeat the Evil Skeleton.
Alien: the player must make the "wicked aliens" appear and then destroy them.
Links to other series
| Direction | Series | Date | Description | Type |
| --- | --- | --- | --- | --- |
| | Metroid | | Various elements from the Metroid series are featured in the "Cosmic" table of Galactic Pinball. | 1 |