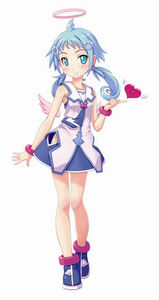 For more information see:Gal Gun wikia.
Gal Gun is a series by Inti Creates and Alchemist.
Games
Gal Gun(January 27 2011,japan only)for Xbox 360 and Playstation 3.
Might Gunvolt (August 20 2014), a crossover with Gal*Gun and Mighty No. 9 for Nintendo 3DS, Playstation 4, Playstation Vita and PC.
Gal Gun:Double Peace(July 22 2015)for Playstation 4,Playstation Vita and Microsoft Windows PC.
Link to Other Series
| Direction | Series | Date | Description | Type |
| --- | --- | --- | --- | --- |
| | Megaman | | Mighty Gunvolt is a clone of Megaman . | 3 |
| | Azure Striker Gunvolt | | Mighty Gunvolt is a crossover between Azure Striker Gunvolt, Mighty No. 9, and Gal*Gun. | 1 |
| | Mighty No. 9 | | Mighty Gunvolt is a crossover between Azure Striker Gunvolt, Mighty No. 9, and Gal*Gun. | 1 |
| | Blaster Master | | Ekoro is a downloadable character for Blaster Master Zero. | 1 |