This page explains in detail the interactions between the Frontline series and the Mario series.
Frontline episode The Soufflé Rises
19940509 May 09, 1994
Frontline4

Mario
In the first episode of Frontline, Mike is seen playing a Game Boy in his office. As the secretary Shelley enters he quickly hides it away, forgetting to pause the game. Hearing its music, she asks Mike if he can hear something but he says he doesn't. The music heard is actually the Overworld theme from Super Mario Land.
Frontline episode The Seige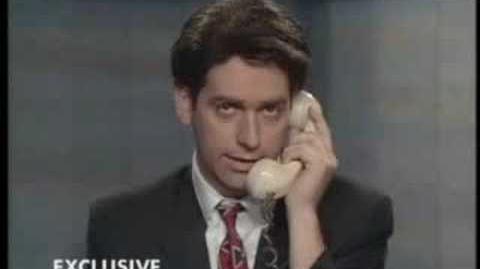 19940606 June 06, 1994
Frontline4

Mario
In the fifth episode of Frontline, as Mike talks to a boy who is playing a Game Boy, he says "Hey, is that Super Mario? Hey watch out for those things." Oddly, the sounds coming from the Game Boy are from the NES game Super Mario Bros., not Super Mario Land or any other Game Boy game released at the time.
License
Frontline's company Working Dog didn't hold any right over Nintendo's Mario, but they only included minor references to the games.