For detailed information about this series, see: Frank Bruno's Boxing at Punch-Out!! Wiki
Frank Bruno's Boxing is a boxing videogame created by Elite Systems for the Commodore 64, Amstrad CPC and ZX Spectrum and released in December 1985. The ZX Spectrum version was also later released as Frank Bruno's World Championship Boxing.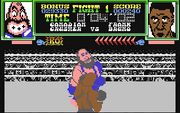 It was created as a console version of the arcade game Super Punch-Out!!, and for this reason it's considered a Type 3 spinoff of the Punch-Out!! series. It features very similar gameplay and graphics to the arcade Super Punch-Out!, only starring different characters: the player's character was replaced by real-life boxer Frank Bruno, while the opponents consist in the first three opponents from the original game, only renamed, followed by eight original characters.
The unoriginal characters are:
Canadian Crusher, based on Bear Hugger. In the Amstrad CPC and ZX Spectrum versions he wears an eyepatch, differentiating him slightly from the original character.
Fling Long Chop, based on Dragon Chan.
Andra Puncheredov, based on Vodka Drunkenski.
originally planned to release the game as an official port of Super Punch-Out!! or if they simply intended to copy the game, either way the final game is considered an unoffial clone.
Links to other series
| Direction | Series | Date | Description | Type |
| --- | --- | --- | --- | --- |
| | Punch-Out!! | | Frank Bruno's Boxing is based on the arcade Super Punch-Out!!. | 3 |