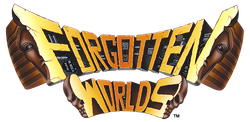 For detailed information about this series, see: Forgotten Worlds on Wikipedia
Forgotten Worlds is a side scrolling shoot-'em up video game series by Capcom.
Video Games
Forgotten Worlds (July 1988). Arcade. Later released on DOS, Amiga, Amstrad CPC, Atari ST, Commodore 64, Sega Master System, Sega Mega Drive/Genesis, Turbografx-16 and ZX-Spectrum. The Mega Drive/Genesis port was re-released in 2008 for Wii Virtual Console.
Links to other series
| Direction | Series | Date | Description | Type |
| --- | --- | --- | --- | --- |
| | Fist of the North Star | | Boss characters Whodin & Laidin from Forgotten Worlds are inspired by characters from Fist of the North Star. | 3 |
| | Vulgus | | The Yashichi enemy from Vulgus appears as an item in Forgotten Worlds. | 2 |
| | Side Arms | | A golden Mobichan from Side Arms appears as an item in Forgotten Worlds. | 2 |
| | Higemaru | | A golden barrel sprite from Pirate Ship Higemaru appears as an item in Forgotten Worlds. | 2 |
| | SonSon | | A golden bamboo sprout from SonSon appears as an item in Forgotten Worlds. | 2 |
| | Adventure Quiz | | The Adventure Quiz series features characters from Forgotten Worlds. | 1 |
| | Capcom Baseball | | The Unknown Soldiers are pictured in a newspaper ad in Capcom Baseball. One of the players in the "Capcom Games" team is named "Lost", after the series' Japanese name, Lost Worlds. | 2 |
| | Final Fight | | The enemy character Two.P from Final Fight is inspired by Unknown Soldier 2P from Forgotten Worlds. | 3 |
| | Street Fighter | | Guests costumed as the two unknown soldiers from Forgotten Worlds appear in Street Fighter Alpha 2, Two.P's profile in the online Street Fighter V character encyclopedia features further references to the red Unknown Soldier and Guile receives an Unknown Soldier 1P costume in Street Fighter V: Arcade Edition. | 2 |
| | Marvel vs. Capcom | | Unknown Soldier 1P is an assist character in Marvel vs. Capcom. | 1 |
| | SNK vs. Capcom | | Sylphie from Forgotten Worlds appears as a shop owner in SNK vs. Capcom: Card Fighters' Clash, the "Lost World" store is based off the game and has enemies and weapons in display; and the character Foh/Foru Gotton from SNK vs. Capcom: Card Fighters Clash and Card Fighters 2 is named after the series. | 1 |
| | Capcom Fighting | | An statue of the War God from Forgotten Worlds makes a cameo in Guy's ending in Capcom Fighting Evolution. | 2 |
| | Namco × Capcom | | Namco × Capcom features characters from Forgotten Worlds. | 1 |
| | Capcom Classics Collection | | Forgotten Worlds is included in Capcom Classics Collection and Capcom Classics Collection Remixed. | 2 |
| | Lost Planet | | "Unknown Super Soldier", "Forgotten Worlds" and "Sylphie" are unlockable Nom de Guerres in Lost Planet 2. | 2 |
| | Mega Man | | The two Unknown Soldiers from Forgotten Worlds make a cameo in volume 2 of the Mega Man comics by Archie. | 1 |
| | Project X Zone | | Project X Zone 2 features Sylphie from Forgotten Worlds. | 1 |