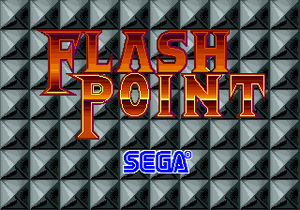 For detailed information about this series, see: Flash Point at Sega Retro
Flash Point is a puzzle game by Sega released for the arcades in 1989.
It features the same basic gameplay as Tetris and can therefore be considered a spin-off of it. Rather than on making points in an endless mode, this game features staring maps and the objective is to clear specific, highlighted blocks in each map.
On September 28, 2006 it was re-released for PlayStation 2 within Sega Ages 2500 Series Vol. 28: Tetris Collection.
Links to other series
| Direction | Series | Date | Description | Type |
| --- | --- | --- | --- | --- |
| | Tetris | | Flash Point is a clone of Tetris; they were released together in Sega Tetris Arcade in Sega Ages 2500 Series Vol.28 Tetris Collection. | 3 |
| | Flicky | | An image of Flicky appears in Flash Point. | 2 |
| | Bloxeed | | Music from Flash Point and Bloxeed was released together in the CD Flash Point/Bloxeed. The two games were also released together in Sega Tetris Arcade in Sega Ages 2500 Series Vol.28 Tetris Collection. | 3 |