For detailed information about this series, see: Fire Attack at In the Attic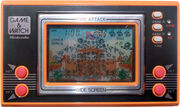 Fire Attack, also known as Fire Attack!, is a videogame released by Nintendo in the Game & Watch Wide Screen series on March 1982. The game features four buttons to make the charachter, a civil war-looking general, knock away indians that are attacking his fort from four directions.
In 2002 it was included in Game & Watch Gallery Advance, but only as an unlockable game.
Links to other series
| Direction | Series | Date | Description | Type |
| --- | --- | --- | --- | --- |
| | Game & Watch Gallery | | Fire Attack is included in Game & Watch Gallery as one of the "Gallery" games and in Game & Watch Gallery Advance as an unlockable playable game. | 2 |
| | Super Smash Bros. | | In one of Mr. Game & Watch's moves he uses a torch from Fire Attack; characters from the game also appear as spirits in Super Smash Bros. Ultimate. | 1 |
| | Mario | | UNDIRECT: Modern Fire Attack within Game & Watch Gallery Advance features elements from the Mario series. | 1 |
| | Wario | | UNDIRECT: Wario's Hen from Wario Land II makes an appearance in Modern Fire Attack within Game & Watch Gallery Advance. | 1 |