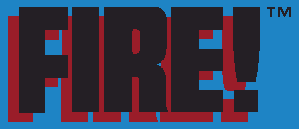 For detailed information about this series, see: Fire at Nintendo Wiki
Fire, also known as Fire!, is a videogame created by Nintendo in the Game & Watch series. The game features two buttons to move left and right two firefighters holding a rug, and the ojective is to make the people that fall from the building bounce all the way to the ambulance.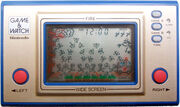 The original version of the game was released on July 31, 1980 in the first series of Game & Watch games, currently known as the Silver Series. A new, partially colored version was released in the Wide Screen series on December 4, 1981, and this version was re-released in 1998 in the Mini Classics series.
Additionally Fire was included in Game & Watch Gallery, released for the Game Boy on February 1, 1997, and in Game & Watch Gallery Advance, released for the Game Boy Advance on October 25, 2002. Both versions are based on the Wide Screen Edition and also feature an updated "Modern" version, with Mario characters. It was also included in Game & Watch Gallery 3, but only as a secret minigame.
Links to other series
| Direction | Series | Date | Description | Type |
| --- | --- | --- | --- | --- |
| | Game & Watch Gallery | | Fire is playable in Game & Watch Gallery, Game & Watch Gallery 3 and Game & Watch Gallery Advance; it's also one of the "Gallery" games in Game & Watch Gallery. | 2 |
| | Mario | | UNDIRECT: Modern Fire within Game & Watch Gallery and Game & Watch Gallery Advance features elements from the Mario series. | 1 |
| | Donkey Kong | | UNDIRECT: Donkey Kong Jr. makes an appearance in Modern Fire within Game & Watch Gallery and Game & Watch Gallery Advance. | 1 |
| | Super Smash Bros. | | The firefighters from Fire appear during one of Mr. Game & Watch's moves; one of the scenarios in the "Flat Zone 2" stage in Super Smash Bros. Brawl takes place in Fire. | 1 |