This page explains in detail the interactions between the Famicom Robot series and the Wario series.
WarioWare: Twisted!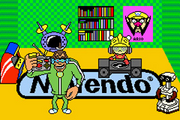 20041014 October 14, 2004
Famicom Robot5

Wario
In 9-Volt's room there are various Nintendo consoles and accessories, among them is R.O.B. It appears in its Japanese color scheme.
License
Copyrights for both series are held by Nintendo.