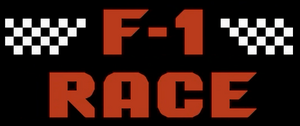 For detailed information about this series, see: F-1 Race at Wikipedia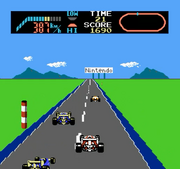 F-1 Race is a racing video game series by Nintendo.
The first game in the series, F-1 Race was released on November 2, 1984 for the Famicom only in Japan.
The second game in the series, Famicom Grand Prix: F-1 Race was released on October 30, 1987 for the Famicom Disk System, and it's also the first episode in the Famicom Grand Prix series.
On november 9, 1990 a Game Boy version of F-1 Race was internationally released, but while taking the gameplay of the original it's actually a different game, featuring totally new tracks.
Links to other series
| Direction | Series | Date | Description | Type |
| --- | --- | --- | --- | --- |
| | Famicom Rocky | | The first chapter of Famicom Rocky features the videogame F-1 Race. | 2 |
| | Famicom Grand Prix | | Famicom Grand Prix: F-1 Race is part of both series. | 1 |
| | Mario | | Mario is the pilot in Famicom Grand Prix: F-1 Race; Mario, Luigi, Toad, Peach and Bowser appear in F-1 Race for the Game Boy. | 1 |
| | Zelda | | Link makes a cameo in the game boy version of F-1 Race. | 1 |
| | Metroid | | Samus makes a cameo in the game boy version of F-1 Race. | 1 |
| | Kid Icarus | | Pit makes a cameo in the game boy version of F-1 Race. | 1 |
| | Donkey Kong | | Donkey Kong makes a cameo in the game boy version of F-1 Race. | 1 |