For detailed information about this series, see: Evil Bong Franchise at Full Moon Features Wiki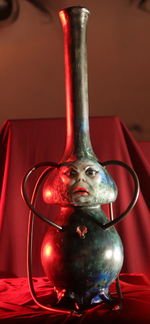 Evil Bong is a series of horror comedy films by Full Moon Features about a sentient, malevolent bong that kills its users by transporting them into a "Bong World" full of evil strippers and other creatures.
Eight movies were released, all direct-to-DVD:
Evil Bong (October 31, 2006)
Evil Bong 2: King Bong (July 7, 2009)
Evil Bong 3D: The Wrath of Bong (April 8, 2011). It also received a limited theatrical release.
Gingerdead Man vs. Evil Bong (October 29, 2013)
Evil Bong 420 (April 20, 2015)
Evil Bong: High 5 (April 20, 2016)
Evil Bong 666 (April 20, 2017)
Evil Bong 777 (April 20, 2018)
A three issue comic titled The Gingerdead Man Meets Evil Bong was also published from March to May 2018.
Links to other series
| Direction | Series | Date | Description | Type |
| --- | --- | --- | --- | --- |
| | Trancers | | Rabbit from Trancers II is a recurring character in the Evil Bong series; Jack Deth also makes an appearance in Evil Bong. | 1 |
| | Doll Graveyard | | Ooga Booga from Doll Graveyard appears in Evil Bong, Evil Bong 420 and Evil Bong: High 5; an Ooga Booga figurine is also shown in Gingerdead Man vs. Evil Bong. | 1 |
| | Decadent Evil | | Ivan from Decadent Evil appears in Evil Bong. | 1 |
| | Gingerdead Man | | The Gingerdead Man appears in Evil Bong and some of its sequels, with Gingerdead Man vs. Evil Bong and the comic The Gingerdead Man Meets Evil Bong being crossovers between the two series. | 1 |
| | Demonic Toys | | Jack Attack from Demonic Toys appears in Evil Bong. | 1 |
| | Zombies Vs. Strippers | | Hambo from Zombies Vs. Strippers appears in Gingerdead Man vs. Evil Bong, Evil Bong 420 and Evil Bong: High 5. | 1 |
| | Elvira | | Elvira smokes from Eebee the Evil Bong in the eleventh episode of 13 Nights of Elvira. | 1 |
| | Killjoy | | Lamell and Rabbit's weed shop from Evil Bong: High 5 is a sponsor of Killjoy's variety show in Killjoy's Psycho Circus; a "Killjoy Bong" also appears in The Gingerdead Man Meets Evil Bong #2. | 1 |
| | Dollman (Full Moon) | | Dollman fights Gingerweed Man in the extra San Diego Comic Con exclusive story in Dollman Kills the Full Moon Universe #1. | 1 |