This page explains in detail the interactions between the Elvira series and the Hobgoblins series.
13 Nights of Elvira: Hobgoblins
October 22, 2014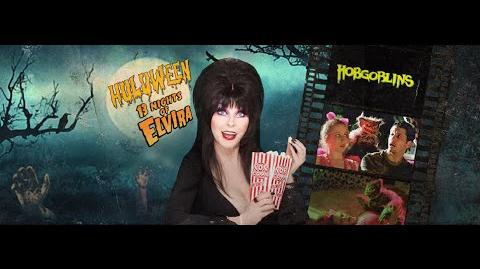 In the fourth episode of 13 Nights of Elvira the mistress of the dark presents the movie Hobgoblins.
During Elvira's clips, she presents the "Elvy" award, presented to the best performance of an hobgoblin in a movie. After presenting the four hobgoblins from the movie as nominees, she nominates hobgoblin #2 as the winner. The hobgoblin then appears from behind the sofa and instead of taking the award he attacks Elvira.
License
The owners of Hobgoblins licensed the movie for the show, and apparently also provided the Hobgoblin prop, so the creators of 13 Nights of Elvira could freely use the creature.