This page explains in detail the interactions between the Elvira series and the Evil Bong series.
13 Nights of Elvira: Evil Bong
October 29, 2014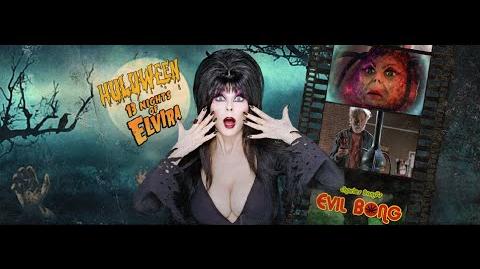 In the eleventh episode of 13 Nights of Elvira the mistress of the dark presents the movie Evil Bong.
During Elvira's clips, she receives the titular bong in the mail, and starts smoking from it. She then exhales rainbow colored smoke and passes out.
When the package arrives, Elvira seems to interact with the delivery man, but that's just her usual way of pretending to interact with clips from the movie. However the bong itself is really there and even if its face doesn't move, it appears to have special properties due to the colored smoke, therefore this counts as an in-universe link.
License
Full Moon Features licensed their movies for the show, and apparently also provided the Evil Bong prop, so the creators of 13 Nights of Elvira could freely use the item.