For detailed information about this series, see: Elevator Action on Wikipedia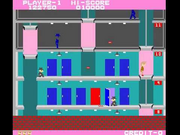 Elevator Action is a sidescrolling platform video game series by Taito.
Video games
Elevator Action (July 1983). Arcade. Later released on the NES, Game Boy, MSX, Commodore 64, Amstrad CPC, ZX Spectrum, SG-1000, PC-8801, FM-7, mobile phones, PC and Android. Rereleased in 2007 for the Wii Virtual Console, 2014 for the Wii U and 3DS Virtual Console and 2017 for PlayStation Network.

Elevator Action EX (September 29, 2000). An updated version for the Game Boy Color.

Elevator Action Returns (February 1995). Arcade. Later released on PlayStation and Sega Saturn. Known as Elevator Action II in North America.
Elevator Action Old & New (December 20, 2002). Game Boy Advance.
Elevator Action: Death Parade (November 2009). A light gun action title for Arcade.
Elevator Action Deluxe (August 31, 2011). PlayStation Network.
Links to other series
| Direction | Series | Date | Description | Type |
| --- | --- | --- | --- | --- |
| | Darius | | "Darius" is written above a plane's door in stage 2 of Elevator Action Returns. | 3 |
| | Bubble Bobble | | The enemy spy from Elevator Action spawns as an item in Round 56 of Bubble Memories. | 2 |
| | Turn It Around! | | The Arcade original and Nintendo DS version of Turn It Around! feature a minigame called "Elevator" based off Elevator Action. | 3 |
| | Power Shovel | | A Spy item from Elevator Action is one of the items to buy in the "Be a good buyer!" mini-game from Power Shovel. | 2 |
| | Bakushou!! Jinsei Gekijou | | Bakushou!! Jinsei Kaimichi NOVA Usagi ga miteru zo!! features a minigame parody of Elevator Action named "Salaryman Haction". | 3 |
| | Taito Memories | | Taito Memories Joukan, Gekan and Pocket Memories include Elevator Action games. | 2 |
| | Taito Legends | | Taito Legends, Legends 2 and Power-Up include Elevator Action games. | 2 |
| | Spy Games | | Spy Games: Elevator Mission was originally developed as part of the Elevator Action series. | 3 |
| | Daifugo Party | | Agent Otto from Elevator Action is a playable character in Daifugo Party. | 1 |
| | Music Gun Gun! | | Music from Elevator Action is featured in Music Gun Gun 2!. | 2 |
| | Regular Show | | The game "Xtreme Xcape" from the season 3 episode "Bet to Be Blonde" of Regular Show is inspired by Elevator Action. | 2.5 |
| | Pocky & Rocky | | Sayo-chan/Pocky is a DLC character in Elevator Action Deluxe. | 1 |
| | Arkanoid | | The Vaus from Arkanoid is a DLC character in Elevator Action Deluxe, while the Spy from Elevator Action appears as one of the characters providing assist attacks in Arkanoid vs. Space Invaders, and Stage 141 in the game is patterned after the spy. | 1 |
| | Time Gal | | Reika Kirishima from Time Gal is a DLC character in Elevator Action Deluxe. | 1 |
| | Lollipop Chainsaw | | A section of stage 4 in Lollipop Chainsaw is based on Elevator Action gameplay. | 2 |
| | Schoolgirl Strikers | | Schoolgirl Strikers features a poster of Elevator Action as part of a special Taito collaboration. | 2 |
| | Space Invaders | | The Spy from Elevator Action appears as one of the characters providing assist attacks in Arkanoid vs. Space Invaders, and Stage 141 in the game is patterned after the spy. | 1 |