This page explains in detail the interactions between the Donkey Kong series and the Wii games series.
Wii Fit
2007121 December 1, 2007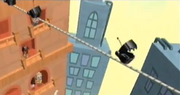 The Tightrope Walk game features remote-controlled beartraps walking on the rope, serving as obstacles that must be jumped over. They might very likely be based on the Snapjaws from Donkey Kong Jr., that were mechanical enemies resembling crocodile heads, and were able to walk down vines.
License
Copyrights for both series are held by Nintendo.