This page explains in detail the interactions between the Donkey Kong series and the Two and a Half Men series.
Two and a Half Men episode People Who Love Peepholes
20110926 September 26, 2011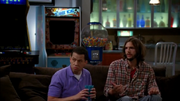 Donkey Kong5

Two and a Half Men
In a scene in the second episode of season 9 (Episode #179), Walden and his wife Bridget discuss about how he acts immaturely on a regular basis. The room is filled with arcade games, and among them is a cabinet for Donkey Kong. Before leaving he also asks "Can I at least play a little Donkey Kong with Alan before I go?"
License
The creators of Two and a Half Men had no right over Nintendo's Donkey Kong, but they only included a minor reference to the game.