This page explains in detail the interactions between the Donkey Kong series and The Fairly OddParents series.
The Fairly OddParents episode Fairy Fairy Quite Contrary
2002913 September 13, 2002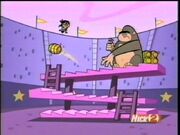 Donkey Kong5

Fairy Fairy Quite Contrary
In the first section of the ninth episode of the second season of The Fairly OddParents (episode 16a), Timmy challenges his rival, Remy Buxaplenty, to a fairy duel. In the first portion of the duel, the fairies must save their respective godchildren from a gorilla, who throws barrels down girders at them à la Donkey Kong.
License
Nickelodeon, that produced The Fairly OddParents, didn't held any right over Nintendo's Donkey Kong, but they only included a minor reference.