This page explains in detail the interactions between the Donkey Kong series and the Robot Chicken series.
Robot Chicken episode The Sack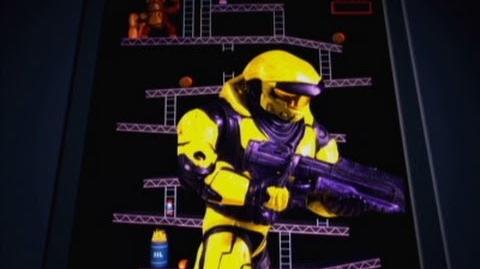 200573 July 3, 2005

The segment "Halo Kong" in the eighteenth episode of Robot Chicken shows what would happen if Spartans from the Halo series would come inside Donkey Kong to save Pauline.
It is shown through an arcade cabinet screen and the graphics tries to reproduce the game's while not being actually it. A notable gameplay inaccuracy is that Mario can reach upper floors simply by jumping from the lower ones, while in the original game he couldn't jump that high. Also the music doesn't change once he gets the hammer.
Note that the episode "The Sack" was renamed "Adultizzle Swizzle" on Adultswim.com and edited featuring different segments, but Halo Kong is still there.
Robot Chicken episode Massage Chair
2006528 May 28, 2006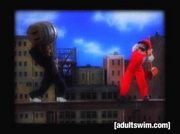 The segment "Bloopers! Three" in the ninth episode of Season 2 of Robot Chicken (Episode #29) features many fake bloopers and outtakes. A section shows people getting injured while supposedly trying to imitate the people from the Jackass TV show, and a short clip shows two people enacting Donkey Kong on an actual building under construction, with one of them dressed like Mario and wielding a hammer, while the other is dressed like Donkey Kong and throws a barrel at him. After being hit, "Mario" falls hitting his body to the girders and then falls down the building. "Donkey Kong" then exults by beating his fists to his chest.
Robot Chicken episode P.S. Yes, In That Way
2009111 January 11, 2009

The segment "I Keep It Now" in the sixty-sixth episode of Season 4 of Robot Chicken (Episode #66) shows an actual gameplay clip from the 25m level of Donkey Kong, with Mario telling Donkey Kong that it's a waste to throw away those barrels, so he picks up one and goes away keeping it.
License
he producers of Robot Chicken didn't hold any right over Nintendo's Donkey Kong, but they only featured elements from the series for parody purposes.