This page explains in detail the interactions between the Donkey Kong series and the Picross series.
Picross NP Vol. 8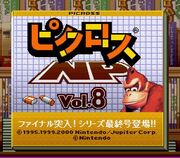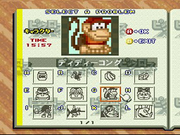 200061 June 1, 2000

The eighth and last Picross NP episode features Donkey Kong Country themed puzzles in "Character Mode". Donkey Kong is also shown in the title screen.
The puzzles are:
A - DK barrel
B - Squawks
C - Banana
D - Winky
E - Funky Kong
F - Cranky Kong
G - Diddy Kong
H - Candy Kong
I - Expresso
J - Enguarde
K - Donkey Kong
L - Rambi
These also return in Picross DS as downloadable puzzles.
Club Nintendo Picross Plus
October 2014

Club Nintendo Picross Plus features puzzles based on the Donkey Kong series, including a Donkey Kong Jr. puzzle.
License
Copyrights for both series are held by Nintendo.