This page explains in detail the interactions between the Donkey Kong series and the Matt Hazard series.
Eat Lead: The Return of Matt Hazard
20090226 February 26, 2009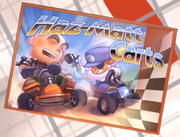 The game features many references to various video game series, including a character directly spoofing Mario: Captain Carpenter. While he mainly parodies the Mario series (see here for details), the fact that he's a carpenter is likely a reference to his original role in Donkey Kong. He also references the game when saying that his "Miss" always had a bad feeling about him working in the warehouse because there are too many barrels. Additionally, the cover for the fictional Haz-Matt Carts game features an image of him weilding a hammer, possibly referencing his weapon in Donkey Kong.
License
Matt Hazard's company D3 doesn't own any right over Nintendo's Donkey Kong series, but they only included minor references avoiding any copiright issue.