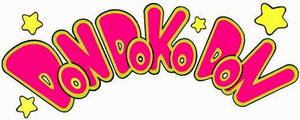 For detailed information about this series, see: Don Doko Don on Wikipedia
Don Doko Don is a side-scrolling platform video game series by Taito.
Video games
Don Doko Don (July 1989). Arcade. Later released on NES, PC-Engine and mobile phones.
Don Doko Don 2 (January 31, 1992). NES.
There's also a video game titled Don Doko Don! Manatsu Noko Fundo developed by Xai, but there's no known connection to Taito's Don Doko Don series.
Links to other series
| Direction | Series | Date | Description | Type |
| --- | --- | --- | --- | --- |
| | The Fairyland Story | | The Worm enemy and red devil from The Fairyland Story appear as enemies in Don Doko Don. | 1 |
| | Cameltry | | A minion of the Pumpkin Specter from Don Doko Don appears in Cameltry holding a 1000 Pts sign if the player reaches the goal with more than 60 seconds on the clock. | 1 |
| | Quiz Quest | | Bob from Don Doko Don is pictured in Quiz Quest: Hime to Yuusha no Monogatari. | 2 |
| | Chack'n Pop | | Collectable items from Don Doko Don 2 feature the silhouette of Chack'n. | 3 |
| | Bubble Bobble | | Bob and Jim from Don Doko Don are assist characters in Bubble Symphony. | 1 |
| | Kyuukyoku Harikiri Stadium | | One of the players in the "Taito Planets" team from Super Kyuukyoku Harikiri Stadium 2 is named "Dondoko", after the series. | 3 |
| | Space Invaders | | Stage 9 in the Parody Mode of Space Invaders DX is based on Don Doko Don and features a playable Bob. | 1 |
| | Pop n' Pop | | Characters from Don Doko Don appear in Pop n' Pop. | 1 |
| | Taito Memories | | Taito Memories Joukan includes Don Doko Don. | 2 |
| | Taito Legends | | Taito Legends 2 includes Don Doko Don. | 2 |