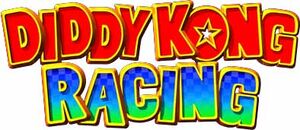 For detailed information about this series, see: Diddy Kong Racing at Super Mario Wiki
Diddy Kong Racing is a series of racing video games developed by Rare and published by Nintendo (note that only Nintendo holds the copyrights for the series) and it's a spin-off of the Donkey Kong series, since stars Diddy Kong. It is often considered part of the Donkey Kong series instead, but since it never references Donkey Kong and has a totally indipendent storyline, it can be considered a series on its own.
Only two games have been released:
Diddy Kong Racing (November 21, 1997), Nintendo 64.
Diddy Kong Racing DS (February 5, 2007), Nintendo DS. A remake of the original game.
A line of action figures based on the game was released by Toy Biz in 1999, including Diddy Kong, Banjo and Wizpig.
Links to other series
| Direction | Series | Date | Description | Type |
| --- | --- | --- | --- | --- |
| | Donkey Kong | | Diddy Kong Racing is a spinoff of the Donkey Kong series. | 1 |
| | Banjo-Kazooie | | Banjo is selectable in Diddy Kong Racing; Tiptup makes appearances in Banjo-Kazooie and Banjo-Tooie; The cancelled Diddy Kong Pilot was remade into Banjo-Pilot. | 1 |
| | Conker | | Conker is selectable in Diddy Kong Racing. | 1 |
| | Killer Instinct (Rare) | | The logo of Killer Instinct can be seen on walls in Diddy Kong Racing. | 2 |
| | Mario | | T.T. from Diddy Kong Racing appears in the Mario comic Sag niemals Holerö!. | 1 |
| | Jet Force Gemini | | Jet Force Jemini features Greenwood Village from Diddy Kong Racing as an unlockable track. | 1 |
| | Mickey Mouse | | Greenwood Village from Diddy Kong Racing is featured in the code for Mickey's Speedway USA, though unused. | 1 |
| | Battletoads | | The cancelled Battletoads Game Boy Advance game was going to feature elements from the cancelled Diddy Kong Pilot. | 3 |