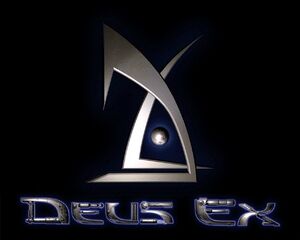 For detailed information about this series, see: Deus Ex Wiki.
Deus Ex
is a series by Square Enix (primaly Eidos).
Video games
Deus Ex (2000) for Microsoft Windows, PlayStation 2, Mac OS.
Deus Ex: Invisible War (2003) for Microsoft Windows and Xbox.
Deus Ex: Human Revolution (2011) for Microsoft Windows,OS X,PlayStation 3,Wii U and Xbox 360.
Deus Ex: The Fall (2013) for iOS,Android and Microsoft Windows.
Deus Ex Go (2016) for Android, iOS, Windows and Windows 10 Mobile.
Deus Ex: Mankind Divided (2016) for Linux,Microsoft Windows,OS X,PlayStation 4 and Xbox One.
Links to other series
| Direction | Series | Date | Description | Type |
| --- | --- | --- | --- | --- |
| | Team Fortress | | Team Fortress 2 features some promotional items from Deus Ex: Human Revolution and unlocked by pre-ordering the game. | 1 |
| | Sleeping Dogs (Square Enix) | | Agent 47 is a dowload character in the game throught The Square Enix Character Pack DLC. | 1 |
| | Hitman | | Adam Jensen's Suit and the Steiner-Bisley Zenith gun from Deus Ex: Human Revolution are featured as DLC in Hitman: Absolution. | 1 |
| | Final Fantasy | | Deus Ex: Human Revolution features a poster for Final Fantasy XXVII. Characters from Deus Ex appear in Final Fantasy Brave Exvius during a special collaboration. | 1 |