For detailed information about this series, see: Dead Zone on Wikipedia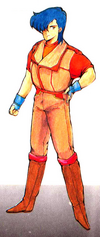 Dead Zone is a sci-fi adventure video game created by SunSoft and released for Famicom Disk System on November 20, 1986.
The story is about an engineer named Kirk who finds himself in a deserted space station filled with broken robots, while searching for his fiancee Marry. He's accompanied by a small robot called Carry.
See Also
Links to other series
| Direction | Series | Date | Description | Type |
| --- | --- | --- | --- | --- |
| | Lionex | | The supercomputer Lionex appears in Dead Zone. | 1 |
| | Nazoler Land | | Kirk from Dead Zone makes a cameo in Nazorarando No. 3. | 1 |
| | Barcode Battler | | A Dead Zone card is included in the game Barcode World. | 1 |
| | Shanghai (Sunsoft) | | Characters from Dead Zone appear on Mahjong tiles in Shanghai Musume: Mahjong Girls. | 2 |