For detailed information about this series, see: Cyberbots on Wikipedia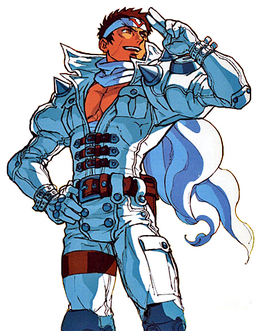 Cyberbots is a robot-themed fighting game series by Capcom.
Video Games
Cyberbots: Full Metal Madness (April 20th 1995). Arcade. Later released on Sega Saturn and PlayStation. Available on PlayStation 3 via PlayStation Network.
CDs
Animate CD Collection - Cyberbots (October 1st, 1995). An audio drama adaptation of the game's story. Consists of 12 tracks: 1 prologue, 10 chapters and a final "Special" bonus track.
Links to other series
| Direction | Series | Date | Description | Type |
| --- | --- | --- | --- | --- |
| | Armored Warriors | | Several mechas from Armored Warriors are featured in Cyberbots. | 1 |
| | Puzzle Fighter | | Devilot from Cyberbots is selectable in Super Puzzle Fighter II Turbo. | 1 |
| | Star Gladiator | | There's an unused banner for Blodia of Cyberbots within the code of Star Gladiator. | 1 |
| | Quiz Nanairo Dreams | | Charlotte from Quiz Nanairo Dreams was based on Devilot from Cyberbots. | 3 |
| | Pocket Fighter | | Blodia from Cyberbots makes a cameo appearance in Pocket Fighter, while Devilot makes a cameo appearance in the PlayStation and Saturn ports. | 1 |
| | Marvel vs. Capcom | | Jin Saotome is a playable character in Marvel vs. Capcom and Marvel vs. Capcom 2. Devilot is an assist character in Marvel vs. Capcom. | 1 |
| | SNK vs. Capcom | | Jin Saotome, Blodia, Mary Miyabe and Devilot from Cyberbots are featured in SNK vs. Capcom: Card Fighters games. | 2 |
| | Tech Romancer | | Jin Saotome and Blodia from Cyberbots are selectable in the Dreamcast port of Tech Romancer. | 1 |
| | Namco × Capcom | | Blodia from Cyberbots assists Sylphie in Namco × Capcom. | 1 |
| | Capcom Girl's Mind Puzzle | | Capcom Girl's Mind Puzzle features appearances of Devilot from Cyberbots. | 1 |
| | Tatsunoko vs. Capcom | | Santana and Devilotte make cameo appearances in Tatsunoko vs. Capcom. | 1 |
| | Lost Planet | | "Cyberbots" and "Devilotte" are unlockable Nom de Guerres in Lost Planet 2. | 2 |
| | Project X Zone | | Project X Zone features Devilotte from Cyberbots. | 1 |
| | Skullgirls | | One of Peacock's attacks in Skullgirls references Blodia from Cyberbots. | 3 |
| | Onimusha | | Devilotte from Cyberbots appears in Onimusha Soul. | 1 |
| | Minna to Series | | Minna to Capcom All Stars and Street Fighter × All Capcom feature characters from Cyberbots. | 1 |
| | Street Fighter | | A Mecha version of Akuma is selectable in the console versions of Cyberbots, while Jin Saotome, Devilotte, Arieta, Blodia and Riot are selectable in Street Fighter × All Capcom. | 1 |