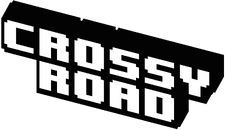 For detailed information about this series, see: Crossy Road Wiki
Crossy Road is a video game series by Hipster Whale.
Video games
Crossy Road (November 20, 2014) for iOS and Android.
Disney Crossy Road (March 28, 2016) for iOS, Android, and PC.
Links to other series
Mascot link: The Android robot is a playable character in the Android version of Crossy Road.
| Direction | Series | Date | Description | Type |
| --- | --- | --- | --- | --- |
| | Forget-Me-Not | | Crossy Road features Forget-Me-Not as a playable character. | 1 |
| | Epoch | | Crossy Road features Epoch as a playable character. | 1 |
| | Disco Zoo | | Crossy Road features the elephant from Disco Zoo as an unlockable character after an update. | 1 |
| | FRAMED | | Crossy Road features Framed as an unlockable character after an update. | 1 |
| | Bag It! | | Crossy Road features Split from Bag It! as an unlockable character after an update. | 1 |
| | Archie | | Crossy Road features Archie and Jughead as unlockable characters after an update. | 1 |
| | Pac-Man | | Crossy Road features characters from the Pac-Man series as unlockable characters after an update. | 1 |
| | Shooty Skies | | Crossy Road features Qw33goorpps, Hooty, and Shooty Cat from Shooty Skies as unlockable characters after an update; Shooty Skies features Crossy Chicken from Crossy Road as an unlockable character. | 1 |
| | Land Sliders | | Crossy Road features Turny and Astronaut from Land Sliders as unlockable characters after an update; Land Sliders features Crossy Chicken from Crossy Road as an unlockable character. | 1 |
| | Monument Valley | | Crossy Road features characters from Monument Valley as unlockable characters after an update. | 1 |
| | Clicker Heroes | | Crossy Road features Grablin and Purple Bloop from Clicker Heroes as unlockable characters after an update; Characters from Crossy Road appear as bosses in the mobile version of Clicker Heroes in an update. | 1 |
| | Mickey Mouse | | Disney Crossy Road has Mickey Mouse characters. | 1 |
| | Zootopia | | Disney Crossy Road has Zootopia characters. | 1 |
| | Toy Story | | Disney Crossy Road has Toy Story characters. | 1 |
| | The Lion King | | Disney Crossy Road has The Lion King characters. | 1 |
| | Tangled | | Disney Crossy Road has Tangled characters. | 1 |
| | Inside Out (Pixar) | | Disney Crossy Road has Inside Out characters. | 1 |
| | Wreck-It Ralph | | Disney Crossy Road has Wreck-It Ralph characters. | 1 |
| | Big Hero 6 | | Disney Crossy Road has Big Hero 6 characters. | 1 |
| | The Haunted Mansion | | Disney Crossy Road has The Haunted Mansion characters. | 1 |
| | Disney's The Jungle Book | | Disney Crossy Road has The Jungle Book characters. | 1 |
| | Disney's Alice in Wonderland | | Disney Crossy Road has Alice in Wonderland characters. | 1 |
| | Finding Nemo | | Disney Crossy Road has Finding Nemo characters. | 1 |
| | Pirates of the Caribbean | | Disney Crossy Road has Pirates of the Caribbean characters. | 1 |
| | Looty Dungeon | | Crossy Chicken from Crossy Road appears as a playable character in Looty Dungeon. | 1 |
| | Monsters (Pixar) | | Disney Crossy Road has Monsters, Inc. characters. | 1 |
| | Disney's Aladdin | | Disney Crossy Road has Aladdin characters. | 1 |
| | Katamari | | Crossy Road features characters from Tap My Katamari as unlockable characters after an update; The Prince can transform into a giant Crossy Chicken in Tap My Katamari. | 1 |
| | The Nightmare Before Christmas | | Disney Crossy Road has The Nightmare Before Christmas characters. | 1 |
| | Moana | | Disney Crossy Road has Moana characters. | 1 |
| | Disney's Mulan | | Disney Crossy Road has Mulan characters. | 1 |
| | The Incredibles | | Disney Crossy Road has The Incredibles characters. | 1 |
| | Disney's Beauty and the Beast | | Disney Crossy Road has Beauty and the Beast characters. | 1 |
| | Lilo & Stitch | | Disney Crossy Road has Lilo & Stitch characters. | 1 |
| | Cars | | Disney Crossy Road has Cars characters. | 1 |
| | DuckTales | | Disney Crossy Road has DuckTales characters. | 1 |
| | Piffle | | Crossy Road features characters from Piffle as unlockable characters after an update. | 1 |
| | Dashy Crashy | | Dashy Crashy features Crossy Chicken in a special event. | 1 |